It's been one week since Bruce crossed that forbidden line and took his nephew Cody's butt, giving into his most carnal and base desires.
Cody was sent to live with Bruce for a year to learn the value of hard work. After moodiness and bratty twink behavior, Cody seduced his uncle Bruce. Since then, they've been inseparable. Taboo sex dominates their every waking moment. Bruce knows they're both going to Hell for what they're doing, so he might as well enjoy every moment of the journey.
Bruce soon discovers that Cody is even more addicted to sex than he ever thought. He finds a hidden camera that Cody's placed in the living room and in playing back the video, he sees that not only has Cody been secretly filming all of their encounters, he learns that he's not enough for Cody—the twink has been spending every alone moment playing with himself.
Although Bruce still wants to dominate and own his nephew's butt, he also realizes that his nephew needs to better control his libido. Since Cody won't stop playing with himself, Bruce decides to take control of his parts for him—by locking him in chastity.
Cody is desperate to get off and Bruce soon learns his plan has backfired. Chastity isn't controlling Cody's libido, it's instead making it go dangerously out of control.
Their secret sex life is about to be exposed.
Excerpt
I turned the cold water on to full blast. He struggled to get out, but I held him in there. He eventually stopped struggling and gave in, letting me do what I wanted. He looked defeated.
His cock softened and then shriveled from the cold. I turned off the shower and took the chastity device from his hand and got on my knees in front of him. He stood there—still and stoic—as I hooked the plastic loop around the base of his cock and balls, and then assembled the device so his shriveled boy-dick was encased in plastic. To top it all off, I locked the padlock.
I sat back on my heels, admiring it. Looking up at him, I said, "It looks gorgeous on you. It's perfect."
He looked down at his caged dick and there was a glimmer in his eyes. Though he appeared defeated and perhaps depressed, I saw the spark of sexual excitement firing within him. He'd probably seen such things on porn and a part of him was curious. Now he was living the real thing.
I stood up and held the keys tight in my hand. "Come on," I said, "let's celebrate this."
"Celebrate how?" he asked.
I reached behind him and stroked his crack, running my fingers over his tight hole. "I can think of a way."
He made an mmfph sound that clearly signaled his desire. Fucking slut was horny again. I chuckled inwardly—I'd better get used to this because with his dick off limits until further notice, this boy would soon be hornier than he's ever been before.
I leaned in and kissed along his neck until I reached his ear, then I nibbled on his earlobe. "Turn around," I whispered.
Immediately, he did so. I pushed on his shoulders and he bent over, holding onto the shower's grab bar for support. I stepped back a bit to look at his perfect body and his gorgeous ass. Already I was rock hard and I was aching to spew my load in his guts.
"Fuck me," he begged, half moan, half whimper.
I spat in my hand and brought those slickened fingers to his ass, rubbing his knotted flesh. Despite being balls deep in there too many times to count over the last few days and despite him shoving that giant orange dildo in there, he was always surprisingly tight when I first touched him. But it didn't take long to work a finger in and follow it up with a second and a third. He might always be tight to start with, but he was always quick to loosen up. He was born to bottom.
Spitting in my hand again, I slicked up my cock.
"You ready for this, boy?" I growled.
"Fuck me, Uncle Bruce. Fuck me."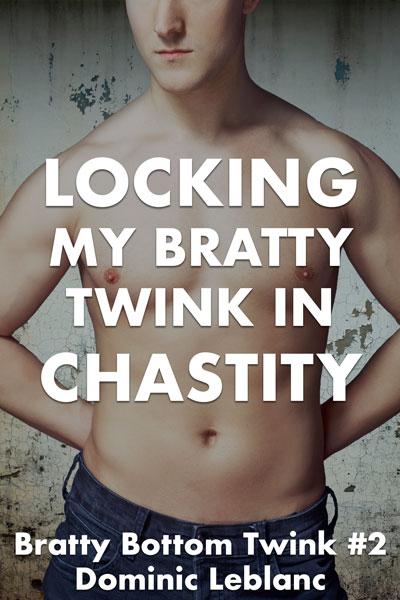 Prefer shopping on Amazon?
To comply with Amazon's strict "no incest" rule, a non-incest version is available on Amazon. The only difference is that instead of Bruce and Cody being uncle and nephew, Cody is instead Bruce's best friend's son. (Amazon won't let me put "Master Dominic" as the author name, hence both a title and author name change.)
Purchase Your Copy: Amazon