Bruce agreed to take in his bratty good-for-nothing nephew, Cody, for a few months, to help him get motivated in life and learn responsibility. It's been barely more than two weeks and it's absolute torture; Cody barely talks to him, he's moody all the time, and Bruce has absolutely nothing in common with him. The only reason Bruce continues to put up with this arrangement is because he'd do anything for Cody's mom.
On a sunny Monday morning, Bruce pulls his truck into work—an auto junkyard that he owns—and is immediately furious because his bratty nephew didn't open the place up for business like Bruce explicitly told him to do. He storms into the office, expecting to find Cody with his feet on the counter and his attention on his phone, but stops short when he instead hears a breathy moan of deep pleasure. He finds—and discreetly watches—Cody getting topped by a burly older man, someone very similar to Bruce himself.
Bruce is sent into a tailspin of unexpected newfound taboo desire for Cody, a desire that immediately becomes all consuming. After watching that other man take Cody's butt, Bruce can think of nothing else but claiming Cody for himself. He struggles against his desire, determined not to act on it, but he can't hide his considerable bulge from Cody. And he can't hold himself back when Cody decides to seduce him.
Pounding My Nephew's Butt is an 11,000 word story.
Excerpt
I slid my key into the lock and let myself into the building. Cody wasn't where I expected him to be; the door opens to the front lobby area with the counter and the cash register. I had fully expected him to be sitting back with his feet up on the counter, playing some game on his phone.
Something wasn't right, but I couldn't put my finger on it.
I carefully and quietly closed the door and then paused and held my breath, listening for any sound that would indicate where Cody was or even whatever it was that was setting off my spidey-sense. In that moment of utter silence I heard what sounded like the softest of moans.
What a fucking cunt, I thought. Being a guy, I knew what that moan was. Cody was close to orgasm. The boy had closed down the place so he could jerk off. Sympathy for him was now out the window.
I considered storming into the back office where the moan came from, but if I did that, he'd pull up his pants so fast that I wouldn't catch him and wouldn't have proof—and I wouldn't get us going in the right direction if I let him get away with it. So, against my urges, I very quietly made my way toward the back office, determined to be as silent as I could be and fully catch him in the act. Maybe a good shock of embarrassment would help him get his priorities straight.
Silently, I made my way out of the front lobby area and into the tiny hallway beyond that branched off into the shitter, the broom closet, and the back office. Just before I poked my head around the office doorway—and now that I was this close I could hear the heavy breathing that only confirmed my suspicions that Cody was jerking his meat on company time—I heard an unexpected sound.
A groan. Deep and low. Definitely not Cody.
I froze in my tracks. What the actual fuck?
Determined to know what was going on, I peered around the corner.
There were indeed two men. Both buck naked and facing away from me. Cody was bent over the desk, exposing his smooth, hairless ass to the other guy. The other guy was big and brawny, like me, and was maybe even my age, and he was buried balls-deep in my nephew's ass.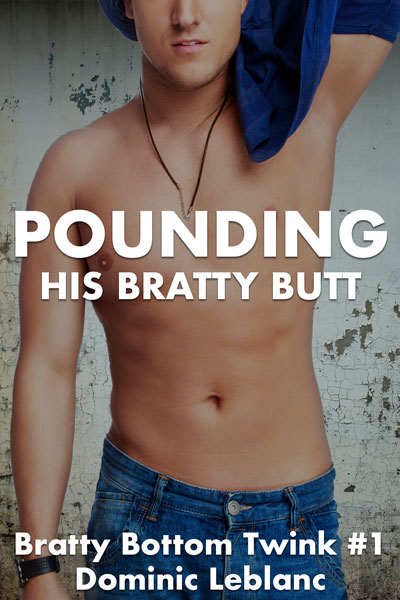 Prefer shopping on Amazon?
To comply with Amazon's strict "no incest" rule, a non-incest version is available on Amazon. The only difference is that instead of Bruce and Cody being uncle and nephew, Cody is instead Bruce's best friend's son. (Amazon won't let us put "Master Dominic" as the author name, hence both a title and author name change.)
Purchase Your Copy: Amazon